Tabiat Bridge (Nature Bridge)
---
Tabiat bridge, Nature bridge or Pol- e- Tabiat as said in Farsi, is the largest pedestrian bridge in Tehran connecting two public parks of Tehran, Taleghani and Ab-o Atash (Water and fire). Tabiat bridge is spanning over Modarres highway. The 270 meters long bridge was designed by Leila Araghian and Alireza Behzadi/ DIba. They have been awarded several prizes such as Popular Choice Prize for highways and bridges from the Architizer A+ Awards, a global architectural competition in New York and Aga Khan Award for Architecture.
History of Tabiat Bridge
A local competition was held in Iran for designing a bridge that connects two parks in north Tehran together, in which Leila Araghian participated. The architectural and structural design of the bridge happened from Fall 2009 to Fall 2010 by a very close collaboration between architectural and structural teams. The construction of Tabiat bridge started in 2010 and took 4 years to complete and was inaugurated in October 2014 and is considered the third symbol of Tehran.
Architecture of Tabiat Bridge
The 3 dimensional truss with two continuous levels sits on three tree shaped columns. On top of the main column there are two main platforms which form the 3rd level viewpoints. All the levels are connected to each other either by stairs or ramps. This structure provides multiple access routes and paths throughout the bridge in order to get from one level to another.
As told by Archdaily website Tabiat bridge was designed based on 5 main premises. Here are the five factors as mentioned on the professional website for architecture:
1. Instead of connecting one point of one park to one point of the other park, the design was intended to connect multiple points of each park together. The width of the bridge increases until it's 60 meters on its west entrance, which forms a plaza on the same level of the park. Which also makes it difficult to realize where the park ends and the bridge starts. There are multiple paths on both sides and both levels entrances that connect the bridge to other important points of both parks.
2. The bridge is not a path to pass but a place to stay that's why there is a café Gallery and a restaurant on the lower level. There are multiple benches and seating areas designed and put on different paths and levels, making it possible to stay as long as you want to enjoy the scenery from the bridge. The scenery which may not be visible from anywhere else.
3. The curvilinear plan of this bridge, changes in widths and slight slopes of the floors slows down the pedestrians, in order to avoid one- point perspective. This would increase the sense of wander and constant shift of views towards the parks, cityscapes and the mountains.
4. Both sides, where the columns are planted had so many trees, so places with less trees were selected in order to avoid or minimize the need to cut more trees.
5. As exactly told by Archdaily, having the depth of structure large enough to make it as an architectural space, It is a 3 dimensional truss that is the structure itself at the same time provides an architectural space. As a result, the lower level which is covered by the above level, makes the bridge usable in rainy and sunny weathers, and changes in width and height of the truss gives the bridge a double curved dynamic form.
How to access Tabiat Bridge
Tabiat bridge is accessible from Modarres highway and Haqani highway. If you head east from Vanak square you can enter Ab- o- Atash Park and reach the Nature bridge through the Park.
Although it's not a historical site, Nature bridge is an Iran highlight and very wanted among the tourists who travel to Iran becasue on the bridge they can discover another view of Tehran, relax and take many photographies.
Iran Negin Travel, as an Iran tour operator, provides a wide range of services to tourists who want to travel to Iran and have a grat time. Through our Iran tours packages, each sightseeing can be included upon the travelers request. Our Iran tours, especially Iran cultural tours and Tehran daily tours, cover this special bridge in tehran.
Contact us and get the best promotions for Iran tourists services and Iran tours packages.
Gallery
---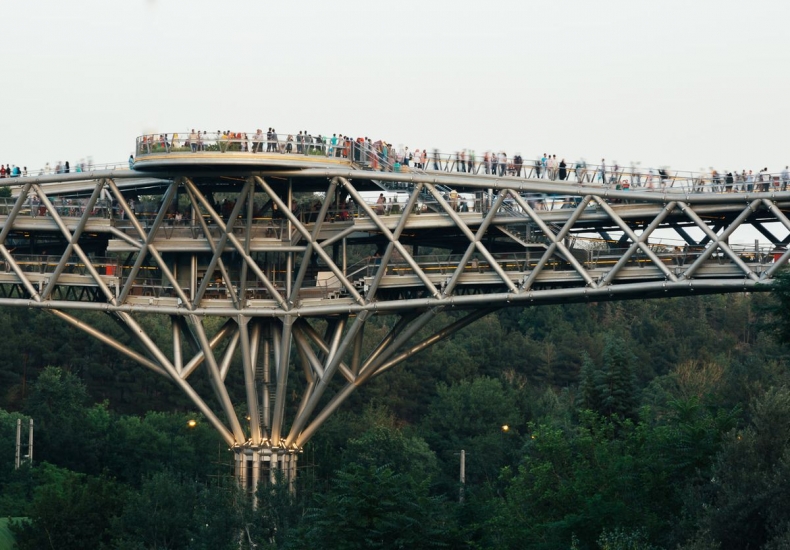 Additional Information
---
Opening Hours
06:00-24:00
Admission Entrance
Free
Map
---