Tomb of Hafez
---
Hafez Tomb, known as Hafezieh, is one of the most well-known sites of Shiraz which attracts many foreign and Iranian tourists. This site is a cemetery which is located in the southern part of the Quran Gate, a really popular historical gate of Shiraz.
Although Hafezieh has gained a giant wealth by embracing the Tomb of Hafez, an Iranian great poet; but it is considered as an extended cultural and historical attraction of Shiraz.
History of Tomb of Hafez
Regards to the great reputation of this great Iranian poet, known as Hafez, his tomb has an important significance through different historical eras of Iran. About 65 years after the death of this superordinate Iranian poet, the first tomb had been constructed at 1425 AD based on the ruler of Fars state. Through the kingdom of Safavid and Afshar dynasty, some major restorations have been done in order to respect this reputable poet and his followers.
It'll be interesting to know that the current Marble stone which is settled on the grave, had been settled by the order of Karim Khan Zand, the most powerful king of Zand dynasty. Hafez Tomb has had many great architectural alterations through Zand dynasty as they have chosen Shiraz as the capital of Zand kingdom.
After Karim Khan Zand, the whole kings of Fars state has done really appreciated efforts in order to increase the architectural beauty of this Tomb, but unfortunately, it has been totally destroyed in 1899 AD. as a result, a religious argument among Muslims and Zoroastrianism.
The current structure of Hafez Tomb has formed through Pahlavi dynasty specifically in 1936 AD. Through the whole Pahlavi dynasty, Hafez Tomb was a really important location for many art festivals and governmental celebrations.
Structure of Tomb of Hafez
Hafez Tomb, also known as Hafezieh, is consist of 2 main courtyards (northern and southern part) within a garden by an extent of 2 hectares. These two main parts have been separated by a 56-meter hall which contains 20 stone pillars by a height of 5 meters. Hafez Tomb is located within the Northern court yard, while the other parts are embracing graves of the most highlighted artists of Fars state and specially Shiraz City through different eras.
In addition to embracing the Tomb of Hafez, the Iranian poet, Hafezieh Complex has a coffee shop inside the garden, while you can find a handicrafts shop in the northern part of the tomb.
For literature lovers Hafez is one of the most well-known poets in the world due to its great poems and his reputation. Hafez Tomb is the one of the sites those who want to visit Iran and stay in Shiraz. Tomb of Hafez is always included in our Iran tours packages, so the tourists who visit Iran can enjoy exploring this beautiful and spiritual complex and the sites inside it and have a wonderful time.
Iran Negin Travel, as an Iran tour operator, provides a wide range of Iran tourist services and Iran tours packages. You can choose among our Iran tours packages, especially Iran cultural tours and Shiraz daily tours, to visit Iran and have a memorable trip to Shiraz.
Gallery
---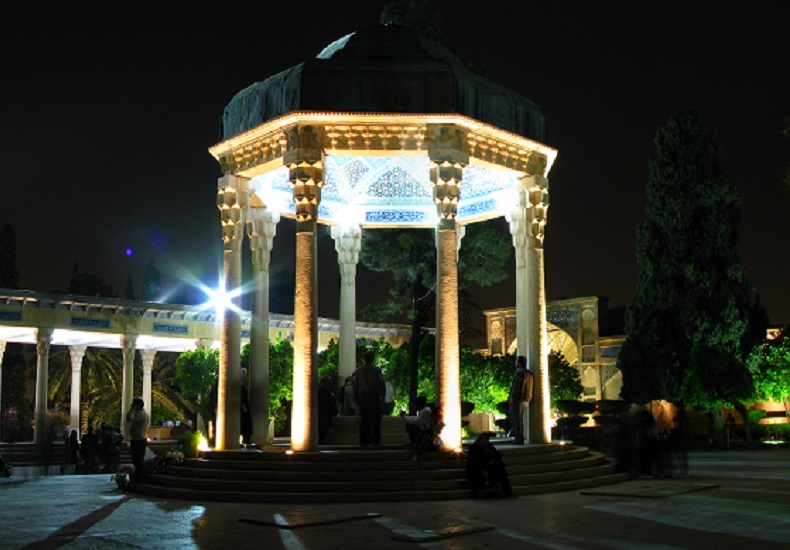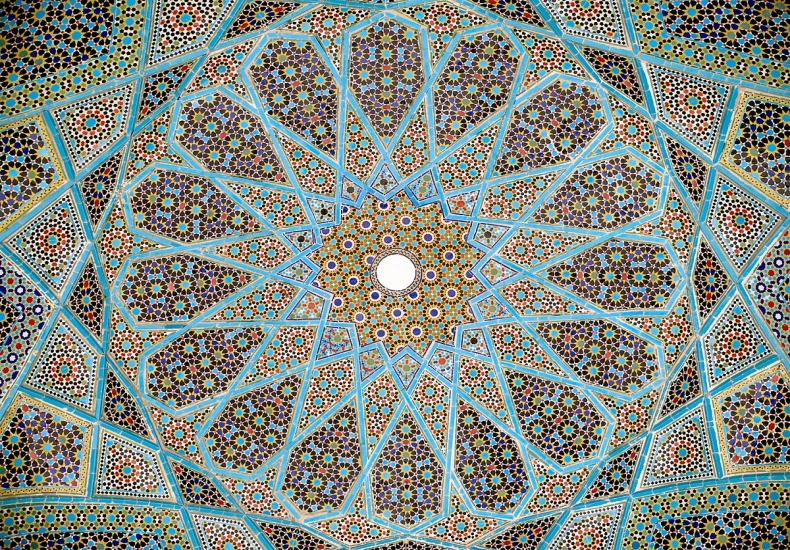 Additional Information
---
Opening Hours
07:30 - 22:00
Admission Entrance
200.000 IRR
Map
---