Tochal Ski Resort
---
Skiing is many people's favourite winter sport. There are a few ski resorts located outside of Tehran, which requires driving out to the suburbs, and would most likely require staying at a hotel for a night or two. But there's one ski resort which not only is easier in terms of accessibility, but it's located inside the city of Tehran, and for people living inside Tehran, requires only an intercity drive. We're talking about Tochal Ski Resort.
Either you're a tourist planning your trip to Iran, or are only curious about sports and entertainment facilities in Iran, this article will provide you with one of Iran's famous ski resorts, specifications, characteristics, facilities, accommodation, transportation options and accessing routes.
Introduction to Tochal, Tochal Gondola and Tochal resort
Tochal resort is located on the Alborz mountain range, named after the area its located in, Tochal mountains. It's located inside Tehran and in the north of the capital, which is part of the Tochal Complex. This resort is considered to be one of the most standard and well known ski resorts in Iran.
Before we continue talking about Tochal, please bear with us while we give a very brief introduction on Tochal itself.
Tochal is the mountain on the Alborz mountains range and includes a 12 kilometres long ridge. Tochal peak is the highest point of this mountain, with an altitude of 3933 meters. Tochal has one of the longest Gondola lifts in the world, as it's 7500-meters long, connecting Tehran to a height, as high as Tochal ski resort. The project of Tochal Telecabin (Gondola Lift) started in 1974, carried out by Bahman Batmanqilich, in partnership with a French company of Poma and Austrian company of DoppelMayr.
It consists of 4 stations and here are their elevations from sea level:
Station 1: 1900 m
Station 2: 2400m
Station 5: 2935 m
Station 7: 3740 m
Tochal hotel was founded in 2003 in the 7th Gondola station and is said to be one of the highest hotels in the world, 3550 meters above sea level and with views of mountainous beauty.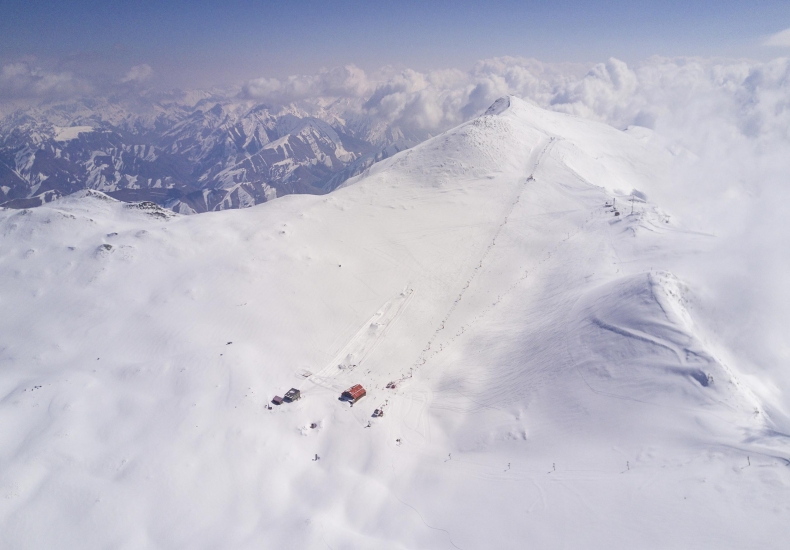 Tochal resort specifications
The main ski slopes are located in station 7 and consists of three separate slopes.
Peak: This slope starts from the hill of Tochal Peak, starting from 3850 meters and ends in 3550 meters where the hotel is located. This slope is 1200 meters long. It's equipped with a Doppelmayr chairlift and Tele-ski. Due to the height of this slope which is more than 3500 meters above sea level, similar to Alvares Ski Resort in Sabalan, Azerbaijan, Iran, the slopes are covered with snow for more than 8 months in a year, and is open for skiing. Half pipe is also used on these slopes.
Western foothill: This slope is located on the western foothill, with a spectacular view of surrounding mountains. It's 900 meters long, peaking at 3750 meters and Tochal hotel as the lowest point, which is 3550 meters.
Slope from 7th station to 5th station: This slope is 5500- meters long. Highest point is 3750 meters and ends in a point in the 5th station, at the height of 2940 meters. Due to being newly opened It has not yet been facilitated with any types lifts.
Tochal ski resort has 3 Doppelmayr chairlifts, and two of them are almost always open. The 3rd chairlift is related to the western peak.
The resort is equipped with snowmelt machines which prepare the slopes for the skiers. During foggy and even slightly stormy days the slopes might be closed for safety reasons.
People who do not have hotel reservations and intend to go back down, have time limitation in using the chairlifts, which is until 3 p.m.
Tochal Hotel specifications and facilities:
Tochal hotel located in 7th station, is at an elevation of 3550 m. This hotel is considered to be the highest mountain hotel, with a wooden façade, opened in 2003.
Staying a night at the hotel requires medical check up. Due to the height of the hotel and increase in pressure, some people might catch the "Mountain syndrome", get headaches and find it difficult to fall asleep. If you don't pass the medical check up, you will get a refund and will be sent back. Hotel is equipped with splitter heating and cooling system, so you do not need to worry about the heating and cooling of the rooms.
If you experience intense headaches, sleeplessness or any other discomfort at night, you can head to the medical center located at the hotel.
There is a coffee shop and restaurant located next to the hotel, serving hot and cold drinks and fresh food for breakfast through dinner.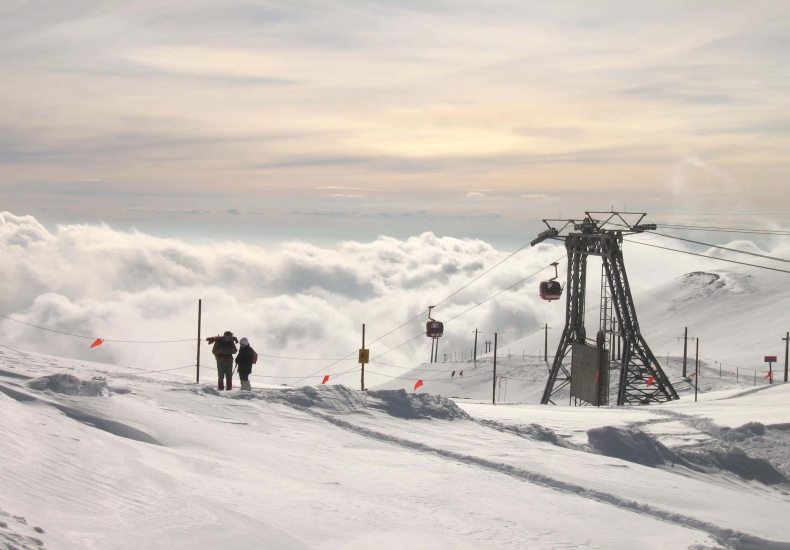 Accessibility
Where ever in Tehran you're located in, you can get to Tajrish square, and from there both Taxis and buses available. You can hop on either of them and get to Tochal Complex, located at the end of Velenjak street. From the parking you can either take electric and environment friendly buses to the 1st station or you can walk to the 1st station. Given that no cars are permitted pass the parking space, except for the staff, if you have skiing equipment, you can ask for permission in order to comfortably transport your belongings.
Getting to the ski resort requires travelling with the gondola for about 30 minutes. You will need to change cabins at 5th station, and get on a different line of tele-cabin.
When to go to Tochal resort
You do not necessarily need to go to Tochal resort for skiing, so you don't have to avoid going there if you do not ski. Getting to see a view of Damavand peak is enough to be the reason to go up there.
Tochal resort and the surrounding nature has its beauty during the four seasons. You can either go there for skiing in skiing season, which covers approximately 8 months of the year, either for skiing or to just enjoy the peace and quiet in the hotel, and grasping the beauty of fresh snow.
You can find your peace and the beauty to get lost in, at any time of the year, whether you ski or not. You won't even need to stay a night at the hotel. Just take the cabin to the top early enough to be able to come back down before 3 pm.
Tochal Ski Resort is the one of the most famous Ski Resort in the Middle East. Every year many tourists visit this site and enjoy skiing in Iran. The good quality facilities and ski slope allows the sport lover have a great time.
Iran Negin Travel, as an Iran tour operator offers among with Iran tourism services such as Iran visa, Iran hotel booking and etc. , Iran tours packages through which the passengers can discover Iran as they desire. As a very common request, Iran Ski tours, are mixed with Iran cultural tours packages and Tehran daily tours. You can chose among our Iran tours packages and add Iran Ski tour and enjoy your trip to Iran at a maximum level.
Our team is eagerly ready to provide you all the services from Iran visa to Iran tours packages. Don't forget to contact us!