Tomb of Cyrus
---
Twenty-five centuries ago, a man gaited on this land, who planted the seeds of unity, understanding, justice, dedication, love, respect and wisdom. A man who could soften every human with his words, notwithstanding their nationality.
Someone who sheltered humans from divisive thoughts, and gathered them under one single flag.
The idea that someone could have thought so well, and way ahead of their time, should not be underestimated. Someone whom, his ideas have influenced many thoughts from different nationalities and cultures, his empire administration has been an idol to many rulers, dynasties, kings and to the most recent governments, leaders and kingdoms.
Some people are born to create and some are born to follow. Here lies a man, who was a creator and founder, someone who set the foundations of "Human Rights", someone whom his futuristic and innovative perspectives, humanitarian thoughts, productive and non-destructive plans, artistic and architectural methods have been mimicked and imitated numerous times throughout the history, even after centuries and millenniums. Even so, he has set the bars of humanity so high, no one has ever been able to accomplish them fully.
We're dedicating this article, to the owner of "Human Rights Cylinder", to the "Father of Persia", and to the founder of not only the first Persian Empire, but the source of Persians' pride and honor.
We're inviting you to keep pace with us in this virtual tour through the history. Because on your next trip to Iran, what will be standing in front of you, won't be just a simple tomb, it's the monument and first symbol of Persia.
Introduction
Tomb of Cyrus the Great, belongs to Achaemenid Cyrus II, known as Cyrus the Great. This very unique monument is located 1-kilometres south west of Pasargadae castles and is visible from any spot on Murghab plain. Especially if you enter the site from "Tang-e-Bolaghi" (Bolaghi Canyon), Tomb of Cyrus will be the first thing you will notice.
Tomb of Cyrus is the only structure in Pasargadae, which has been mentioned in Greek texts and sources. Oldest description belongs to Aristobulus, one of Alexander the Great's companions in his military expedition to Achaemenid territory. This description was recorded in the book of the "Anabasis of Alexander" by Arrian.
Tomb of Cyrus were registered as one of UNESCO's World Heritage Sites in 2004.
History
Cyrus the great who was the son of Mandana, a Median Princess and Cambyses I, were brought up in a noble family. He was famous for being a righteous person, who ruled most of the Asia, from 559 to 529 BC. Historical evidences, suggest that after 30 years of reign, during a battle with Massageteans, while attacking the Scythians in middle Asia, Cyrus were badly wounded, and after a few days of pain and travail, he passed away. This is that Cyrus had testate in his will:
"Mummify my body and put me to rest without a coffin, for every piece of my body and Persia's soil coalesce."
But the reality is in contradiction with this quote, unless we consider the possibility of him being buried in a place other than the topic of our discussion, which is the "Tomb of Cyrus".
Following this incident, his body was transferred to Pasargadae, buried in a land, 2000 meters above sea level, surrounded with nature and mountains.
Seemingly his tomb was built before his death and was perfectly guarded all throughout Achaemenid dynasty.
According to Arrian, the Greek historian, during the reign of Cambyses II, Magians who were guarding the tomb, were rewarded with their share of monthly edibles, such as a sheep, wine, and one horse intended for sacrifice. During the Macedonians invasion, while Alexander the Great was in power, one of the Macedonian soldiers broke into the tomb, looted the precious and valuable contents of the tomb and also harmed the body of Cyrus. After the conquest of Persia, Alexander had always intended to visit the Tomb of Cyrus, and when he did, he found out that everything except the divan and the coffin are all gone. He then ordered for the restoration and reparation of the tomb and had the Magians, who guarded the tomb arrested and tortured.
In the book of "Anabasis of Alexander" by Arrian, Aristobulus notes that Alexander personally asked him to handle the reparation works. In this book, Aristobulus has also pictured the tomb, as a rectangular shaped structure, built with square shaped stones from bottom all the way to the top. Roofed and stone made room at the highest part of this structure, had a door, so small, one medium height man could hardly pass through the door and enter the tomb. Inside the room, were a golden coffin, which enclosed the body of Cyrus II along with a bench with golden legs covered with Babylonian covering Sleeved cape and other Babylonian clothing were placed on the carpeted floor. Necklaces, swords, stone earrings with gold embellishments, pants in different colors and also a table were inside the room. The coffin was placed between the table and the bench. In the precinct of the mausoleum, you could see a small building intended for the Magians, who were entrusted the responsibility of guarding the tomb.
Quoted from the book of "Anabasis of Alexander", here is what was inscribed on the tablet found inside the tomb:
"O man, whoever you are and wherever you come from, for I know you will come, I am Cyrus who won the Persians their empire. Do not therefore begrudge me this bit of earth that covers my bones".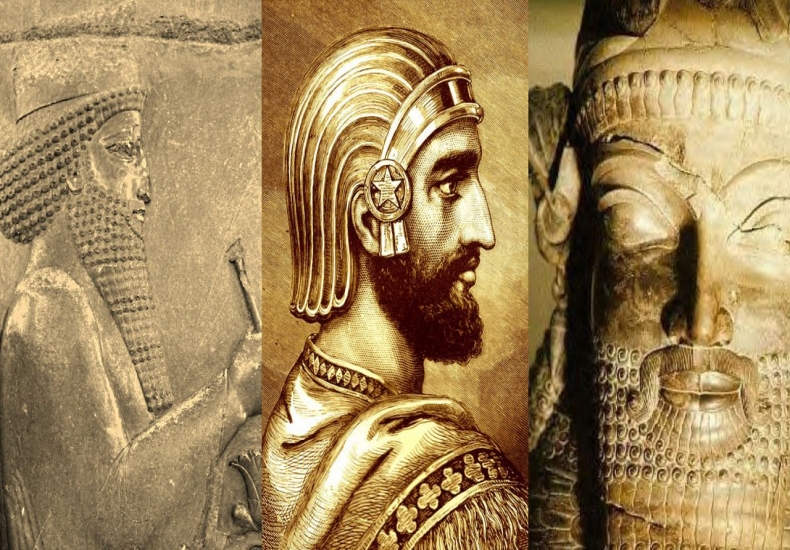 Ceremonies held in the precincts of the Tomb of Cyrus
Nowrouz (Persian New Year): Nowrouz, has been long celebrated in Persia. Evidences gathered from the site of Pasargadae, are indicators of the glorious New Year celebrations held during the Achaemenid era. Today, following our ancestors' footsteps, this Persian traditional ceremony is held at the site of Pasargadae and around the Tomb of Cyrus.
Cyrus the Great day: 29th of October is an unofficial holiday, people celebrate to pay tribute to Cyrus the Great, father of
Theories Surrounding the Tomb of Cyrus
During Islamic era, the utilization of this monument was unknown to people, and according to people's beliefs, constructing such magnificent structures needed extraterrestrial powers, so they attributed this tomb to the mother of Solomon, which was built by Solomon the king, who were capable of making the demons obey his orders. Even during Atabakan-e-Fars era and in 13th century, Sa'd Ibn Zangi built a Jame' mosque around the precinct of the tomb, with the stones brought from the castles of Pasargadae. These stones were returned to their original places during the Pahlavi era with the celebration of 2500 years of the Persian Empire.
There were a lot of disagreements regarding this Tomb. Some historians confirmed the fact that this structure did belong to the mother of Solomon, and some neither agreed or disagreed with this theory, but instead, in late 19th century, they suggested that, the tomb and the memorial monument of Cyrus the great are two separate places, and Cyrus the great has been buried in a different place, such as "Darab-Gard" or "Solomon's Prison" in Pasargadae. Another theory was that, this tomb belonged to a female deceased other than the mother of Solomon, such as wife of Cyrus or another Achaemenid woman.
First person who confidently came to a conclusion that this tomb belonged to Cyrus the Great, was the British traveller and diplomat, Robert Kerporter, who visited Pasargadae early 19th century. After further studying and researches, German epigraphist, George Friedrich Grotefend, approved of Kerporter's theory.
Architecture
Tomb of Cyrus, which is the most intact structure of Pasargadae, is about 11 meters tall, and was built with white lime stones which were probably provided from the Sivand Mine. The architecture believed to be of a Greek, minor Asian, Egyptian, Elamite, and pure Iranian origin. Ernst Herzfeld, German historian, first acknowledged that this tomb has two doors instead of one, which were 130 cm tall. No special decorations have been executed on the façade of this structure. Tomb of Cyrus, as the first example of such architecture, became an inspiration in building future structures, tombs and mausoleums using the same architectural methods, such as "Goor Dokhtar" in Bushehr province, which also belongs to the Achaemenid era. Firdausi Mausoleum's architecture has also been inspired by the architecture of the Tomb of Cyrus.
Tomb of Cyrus has undergone two separate rounds of restorations and reparations, one during the Pahlavi era in 1971, and one after the Islamic Revolution of Iran, between 2001 and 2008.
Cyrus the Great famous quotes
"I have given leave to as many of the Jews that dwell in my country, as please to return to their own country, and to rebuild their city, and to build the temple of God at Jerusalem on the same place where it was before."
I am Cyrus, King of the World, Great King, Mighty King, King of Babylon, King of Sumer and Akkad, King of the Four Quarters, the son of Cambyses, Great King, King of Anšan, grandson of Cyrus, Great King, King of Anšan, descendant of Teispes, Great King, King of Anšan, of an eternal line of kingship,
"You cannot be buried in obscurity: you are exposed upon a grand theatre to the view of the world. If your actions are upright and benevolent, be assured they will augment your power and happiness."
"Even if the skies were shorter than my knees, I wouldn't kneel."
"Success always calls for greater generosity, though most people, lost in darkness of their own egos, treat it as an occasion for greater greed. Collecting boot is not an end itself, but only a means for building an empire. Riches would be of little use to us now- except as a means of winning new friends."
"We love ourselves notwithstanding our faults, and we ought to love our friends in like manner."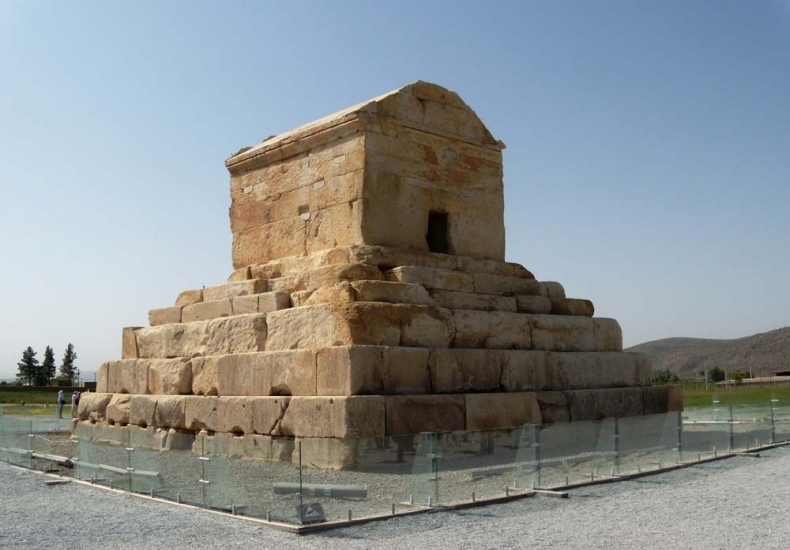 When and how to visit the Tomb of Cyrus
Perhaps spring is the best time to travel to any destination, so in case you have chosen to travel to Iran during spring, we must give you a pat on the back. More specifically, March, April and early May are literally the best times to travel to Iran, especially to central parts of Iran. When you arrive to the city of Shiraz, with either airplane, bus, taxi or personal car, you will at least need 3 days to see the important places in and around this city. As one of the main cities of Iran, it's not in shortage of accommodation options. But make sure, you reserve your hotel, quite a few days in advance, by contacting Iran Negin Travel team.
Given that the Tomb of Cyrus and Pasargadae are located outside the city of Shiraz, about 133km (about 40minute drive), it's going to be a mini-travel, so try to leave your hotel, early enough to be able to fully visit the site, and be back before sunset. There are taxis and buses available in Shiraz, for intercity travels, which can take you to Pasargadae but if you're choosing us to have a guided visit to Pasargadae Complex , the transportation and the guide will be well arranged by Iran Negin Travel.
Although you might be knowledgeable about the history of these places, but regarding the transportation routes and methods only professional tours and locals can be of great help.
To find such tours you can just contact us. On our website there are packages available for travelling to Iran, other than that, we provide you with information regarding tours inside Iran. From the various options we will present to you, you'll be able to choose the one that best suits your criteria, budget and schedule.
Tomb of Cyrus (UNESCO World Heritage Site) is one the most wanted Iran highlight. Iran Negin Travel team recommend you to visit Iran and Shiraz. Thorugh our Iran tour packages you can visit every single important sights in Iran. Our Iran tour packages are made to plan your trip to Iran with unique services. We can make your trip to Iran a wonderful trip. Our daily city tours in Shiraz can also provide you the best services!
Contact us and get the best offers for Iran tours packages and visit Iran.