Tour Description
---
Iran is an attractive religious destination due to the history of the religions of centuries ago in the territory of the Persian Empire. Over the years of history, Iran has hosted many religions such as Zoroastrian, Christianity, Jewish, Islam and etc. During this Iran tour we will discover the places of interest of the Christians along with the tourist attractions of Iran. Our trip to Iran will begin in Tabriz and will end in Tehran, passing through Jolfa, Maku, Hamadan, Khorramabad, Ahvaz, Shiraz, Isfahan and Kashan. The sixteen days of this Iran tour will serve us to explore more than a dozen UNESCO heritage sites including Persepolis, Pasargadae, Bishapur, Naqsh-e Jahan and others.

Travel to Iran with Iran Negin Travel and get to know the history of your religion. Christian churches and monasteries as a well-designed Iran tour is made to take you to the corners of Persia and show you what you wish to discover.
Hightlights
---
Maryam Na-Na Church in Tabriz
Monastery of Saint Stepanos in Jolfa
Saint Sarkis Cathedral in Tehran
Vank Cathedral in Isfahan
Included Services
---
· Visa authorization number
· 15 nights accommodation in the mentioned cities
· Transportation in air conditioned vehicle
· Excursions mentioned by the itinerary
· Airport transfers (x4)
· Entrances to the mentioned sights
· Your speaking language guide
Excluded Services
---
. Visa consular fee
· International flight
· Tip to driver or guide
· Personal expenses
· Travel insurance
· Items not mentioned in the inclusions
Important Note
---
Passport
Make sure that your passport is valid up to 6 months before you travel to Iran. For more info please contact us!
Transfers and Transports
Iran Negin Travel Iran tours include air-conditioned Sedan, Minivan, Minibus and Bus for transfers and transports depending on the group size.
Domestic Flights
The maximum check-in baggage allowance is 20 kg per person.
15/12/2018

30/12/2018

$700

22/12/2018

06/01/2019

$700

29/12/2018

13/01/2019

$700

05/01/2019

20/01/2019

$700

12/01/2019

27/01/2019

$700

19/01/2019

03/02/2019

$700

26/01/2019

10/02/2019

$700

02/02/2019

17/02/2019

$700

09/02/2019

24/02/2019

$700

16/02/2019

03/03/2019

$700

23/02/2019

10/03/2019

$700

02/03/2019

17/03/2019

$700

09/03/2019

24/03/2019

$700

16/03/2019

31/03/2019

$700

23/03/2019

07/03/2019

$700

30/03/2019

14/04/2019

$700
* Starting from in USD per person
Overview Map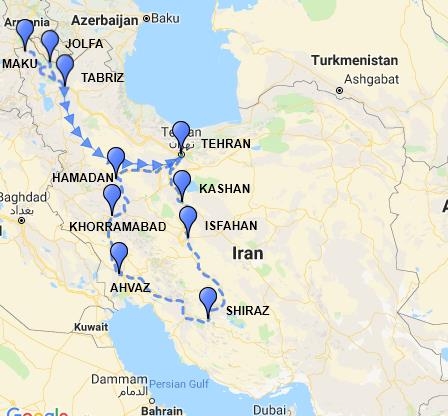 Detailed Maps
Flight from Tehran to Isfahan
Transfer to Abyaneh and Kashan
Transfer to Tehran